I was going to be patriotic today, but I'm not great at that. So instead? Disney lesson!
You might remember this chap below from a Newlywed in Dubai blog post two years ago today (see 4 On The 4th).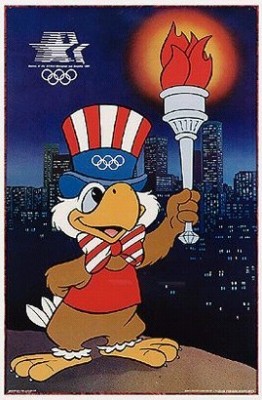 His name is Sam the Olympic Eagle, he was the mascot of the 1984 Summer Olympics, and was designed by artists at the Walt Disney Company.
What makes this interesting (at least, to me) is that there are two other Sam Eagles out there, both also owned by Disney.
From 1974 to 1988 Disneyland park's rotating Carousel Theater was home to the America Sings attraction which was hosted by "Eagle Sam" who was voiced by Burl Ives.
Interestingly, once the attraction closed most of the Audio-Animatronic animals were reused in the then-being-constructed Splash Mountain, which opened the summer of 1989.
The other Sam character is Sam the Eagle the censor and cultural moderator of the Muppets, who are now owned by Disney.
My favorite Sam the Eagle line is from the Disney theme park attraction MuppetVision 3D. In charge of the show's grand finale, Sam says he has planned "a tribute to all nations, but mostly America".
Awesome.
Anyway, thanks for putting up with this lesson, and Happy Fourth!