When we lived in Dubai we were fans of the Hard Rock Cafe. It was a ten minute walk from our house and they had burgers, salads and, most preciously, beer. Well, beer for awhile – right before I left they lost their liquor license (see Hard Rock Cafe Dubai Update).
Needless to say, shortly thereafter it closed altogether (see Hard Luck For Hard Rock In Dubai).
Well good news from today's Gulf News: "Hard Rock Cafe to dish up a second serving in Dubai."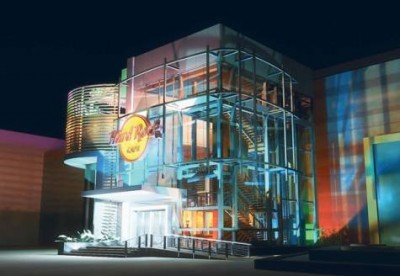 Soon-ish there'll be a new 26,500 square-foot restaurant at the Intercontinental Hotel end of Dubai Festival City. Also, because it is after all, Dubai, the new Hard Rock will build the tallest ornamental guitar in the world outside.
Sadly Festival City is about an hour's drive from our old apartment, so our friends who are still in Dubai probably won't make the trek often.
Also there's no new news about the Hard Rock Hotel Dubai was supposed to be getting (see Hard Rock Hotel Dubai).
Perhaps the recent economy has derailed that train?
Tags: Dubai, Gulf News, Hard Rock Cafe