Back in July we went to the Maine International Film Festival in Waterville, and fell in love with the Bollywood film 3 Idiots (see Maine International Film Festival).
It's the highest grossing Bollywood movie ever, and quite famous. I meant to write more about it at the time, but I was busy not having a job and not writing on this site. Sorry. When it comes to DVD in the States I'll make a big push, I promise.
Anyway, I just saw that the 3 Idiots record was trounced at the box office this weekend: "'Dabangg' is unstoppable; leaves behind '3 Idiots' over weekend".
Huh.
I know nothing about Bollywood, but these two movies sound like complete opposites. Compare:
Set in Laalgunj, Uttar Pradesh, Dabangg is a story of Chulbul Pandey (Salman Khan), a totally fearless but corrupt police officer with unorthodox working methods. But even the most fearless at times face a tough fight with their innermost demons.
To the blurb for 3 Idiots:
Two friends embark on a quest for a lost buddy. On this journey, they encounter a long forgotten bet, a wedding they must crash, and a funeral that goes impossibly out of control.
Heck, even compare their posters: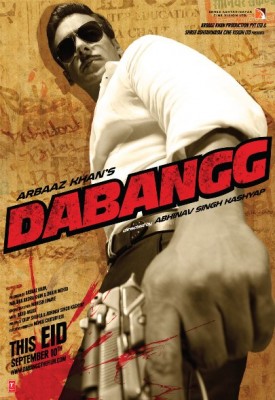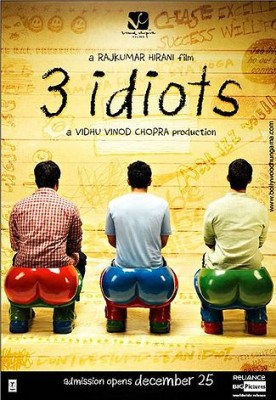 Odd that they both use faint writing in the background. Other than that, they are completely different.
It's fun to see Eid on the Dabangg poster. Odd that it's blood-spattered, though …