Miami's weird. Sure, I've never been there, but I'm familiar with their Vice, their Bad Boys and their Crime Scene Investigators (seriously, do the police all drive Hummers down there?)
But Crockett and Tubbs, Mike Lowery and Marcus Burnett and, um, David Caruso's sunglasses aside, their sports teams just flat out confuse me, most recently with their renaming Joe Robbie Stadium for the Super Bowl (see "Super" Bowl).
The new baseball stadium that the Marlins are building is also bizarre – the retractible roof looks, to some people, like a giant bagel-slicer on its side.
But that's not the extent of the weirdness; last week it was announced two salt-water aquariums will serve as the home plate backstop.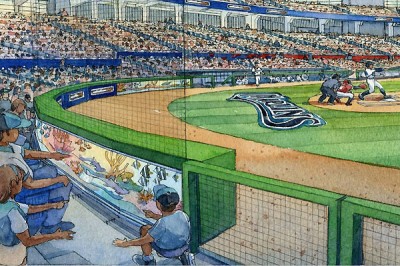 For more, and a few more jokes, see this Miami Herald article: "Will Wild Pitches Scare the Fish?"
Tags: Marlins, Miami, Miami Herald, things that don't make sense