Wow! How did I miss this today? It's February 8th!! Today's the tenth anniversary of Disney's California Adventure theme park!
Here's the Orange County Register story on it: "Disney park makes impact over 10 years".
Personally I think the park has its shortcomings – it was cheap from the start, quite frankly – so it's nice that they're now investing in renovations and additions. However, I always though that the park had a certain charm to it. I really became quite fond of it in my last few years in California.
At the time it opened I was living in Burbank, and although I had gone to an Employee Preview day in January (see My thoughts on Disney's California Adventure) I still decided to make the drive down to Orange County on that first Thursday night.
I also wrote about that trip (see Only in California!).
Ten years later I still like my opening:
Imagine an event so special, it's only taken place seven times over the past 46 years. The next three times it happens, it won't even be on North America. And I live only 34 miles away from it.

Yesterday, Disney's California Adventure opened.

Yesterday, I drove down to Anaheim after work.

I mean, c'mon, who knows where the next Stateside Disney Theme Park is going to be? And I'm sure as hell not going to Tokyo DisneySea in 2001, Disney Studios Paris in 2002, or Honk Kong Disneyland in 2005! But I'm here now, so I figured I'd go for it.
Prescient really, as there hasn't been a new park in the US since!
There hasn't even been a new one since Hong Kong, and Shanghai Disneyland is still four years out.
Anyway, I took a roll or two of photos that night, too. Here's one of the Sun Icon fountain, one of my favorite Disney subjects. Sadly it's on the chopping block and will be removed in the renovations.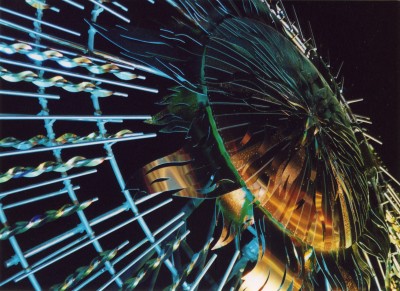 Anyway, happy birthday, California Adventure!