So this is terribly geeky, but indulge me.
I've come to realize over the last two months that the whole point of having an Apple iPhone is to amass applications, or "apps" in the colloquial.
One doesn't make "apps", though, that's too tricky.
To make an "app" one needs to submit it through the Apple Store and their Byzantine application process. That takes time, money, and a strict review process.
The alternative is that one can simply make a webpage and have people add a bookmark to it to their home screen.
As you know, a few weeks ago I made this website mobile friendly. But the logo to the bookmark was a snapshot of the webpage, which is, quite frankly, ugly.
So tonight I discovered how to make the icon pretty.
Check out this screen shot of my home page as it stands tonight (hint, look between the Calendar and the Camera):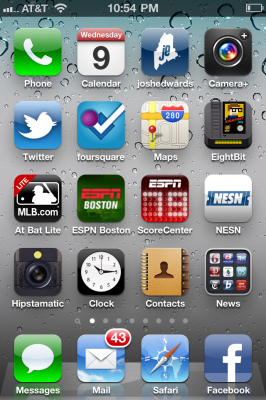 I think that is very cool …