Posts Tagged 'Things I want very badly'
Tuesday, March 16th, 2010
Yes, I'd like a Apple iPad when they come out in 18 days. But I'm wary of being an early adopter, especially on new Apple products. You might remember when Apple cut the price of the iPhone by $200 two short months after it came out. Plus sometimes new products have bugs, especially when they're as new and untested as the iPad.
So I've thought up a more economical use of my $500.
Well, theoretical $500.
Take a Refurbished Mac mini 2.26GHz Intel Core 2 Duo, which happens to sell for $499 – the same price as the current iPad. Add a $20 cable you can hook this up to your television: instant home entertainment system.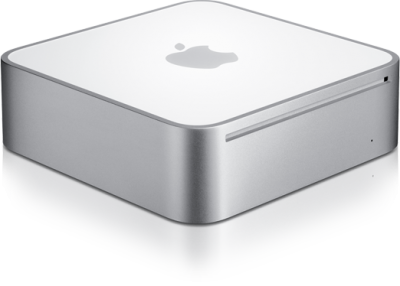 For the past 3 1/2 years we've used our 5.5th Generation iPod to play movies and TV shows to our TV (see iPod, TV and Me). That's fine, and works quite well, but only holds 30 GB of entertainment. The Mac Mini has five times that, plus external hard drives.
Also it would be a hub for all of our music, which right now reside upstairs on a hard drive out of reach. Sadly our laptop has nowhere near the space needed. But with a Mac Mini we could play the songs over our network; all of our music would be at our fingertips anywhere in the house.
So while, yes, I'd like an iPad, I think the Mac Mini would work better for us in the short run. I know eventually we'll have gobs of cash with which to buy all of the neat toys our hearts desire, but for now …